Integrative Graduate Education and Research Traineeship (IGERT)
The National Science Foundation's Integrative Graduate Education and Research Traineeship (IGERT) program is investing $3.2 million over five years in a University of California, San Diego-based project for Training, Research and Education in Engineering for Cultural Heritage Diagnostics (TEECH). With field sites in Italy, Jordan and Mongolia, the international IGERT-TEECH program is carried out through the UCSD Center of Interdisciplinary Science for Art, Architecture and Archaeology (CISA3), a partnership of the California Institute for Telecommunications and Information Technology (Calit2), Jacobs School of Engineering, and UCSD's Division of Arts & Humanities.
IGERT PROJECTS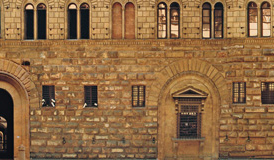 PALAZZO MEDICI
Under a Memorandum of Understanding with the Province of Florence, CISA3 began a long-term project to document and analyze the Palazzo Medici. It is now a research and training venue for graduate students funded by IGERT-TEECH to work alongside the project's Principal Investigators and collaborators from Italian universities, including the University of Florence's Schools of Engineering and Architecture. They are undertaking a very detailed, high-resolution and multispectral scan of the building, from which they hope to use 3D modeling and visualization to help determine if there are art works hidden behind walls and floors.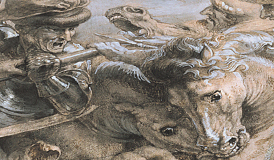 BATTLE OF ANGHIARI
The Leonardo da Vinci mural Battle of Anghiari was painted in the Palazzo Vecchio's Hall of the 500 but disappeared nearly 500 years ago when the hall was remodeled. Was it destroyed? IGERT-TEECH co-PI Maurizio Seracini has been searching for the mural for more than 30 years. In 2007 the Italian government appointed the CISA3 director at UCSD to lead the scientific search for the mural using only non-destructive, non-invasive technologies. IGERT-TEECH Trainees are now able to work in this historic building on one of the highest-profile projects in the world of cultural heritage, as the search resumes in 2011-12.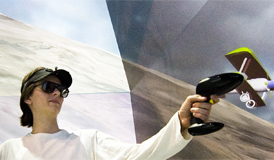 CYBER-ARCHAEOLOGY
Advances in data gathering and analysis technologies are transforming archaeology into cyber-archaeology. As exemplified in a special issue of the journal IEEE Computer in July 2011, almost every phase of archaeological discovery process is affected by the advent of mobile and other digital technologies. IGERT-TEECH co-PI Tom Levy and his team are at the cutting edge of the cyber-archaeology revolution at archaeological sites in Faynan, southern Jordan, where beginning in Fall 2011, IGERT-TEECH Trainees will learn techniques of "dirt" as well as cyber tools, in the field and at a year-round research and training facility for UCSD students, Jordanian and foreign scholars.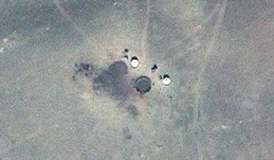 VALLEY OF KHANS
In August 2011, for the third year in a row, an expedition led by Calit2 research scientist and IGERT-TEECH investigator Albert Yu-Min Lin returned from the Mongolian steppe, where they performed a high-tech, non-invasive remote sensing investigation to bring back digital evidence of the lost tomb of Genghis Khan or other potentially important cultural heritage sites. It was the first foreign expedition involving an IGERT-TEECH Trainee, and followed a large-scale crowdsourcing virtual expedition in conjunction with National Geographic – as 10,000 online explorers viewed and tagged more than 637,000 satellite images.